Though we pride ourselves on the platform's ability to accelerate the creation of business-led, cross-functional automation at scale, we'd be remiss to ignore a crucial element of the platform that drives immediate value across our customers business starting with day 1 with AgilePoint – the App Store!
I am pleased to announce that the new App Store is now live with astonishingly fabulous UI.
For those of you that are unfamiliar, AgilePoint's App Store provides roughly 65 application templates that are ready to go right out of the box, and cover some of the most popular process and application use cases throughout your organization.  Simply head over to the Store, find the app you're after, and with 1 click you're ready to rock!
Because the App Store plays such a key role in jumpstarting automation initiatives amongst our customers, it's important that it also gets the same levels of attention that you've seen in the rest of the platform in AgilePoint NX V9.  Read on for a quick synopsis of what you can expect to see starting immediately on our App Store!
As we mentioned in the Portal Blog, moving the App Store to the react.js framework results in a more responsive and improved experience for users.
A complete visual redesign offers an inviting and familiar feel that you've come to expect with AgilePoint NX V9.
Fresh color theme which is pleasing to the eye and beautiful app icons using 3D art.
More intuitive search and filtering capabilities.
'Similar Listings' help you find the app you need to solve your challenge faster than ever before!
Finally, all of this sets the stage for partner network listings! In the short term, expect to see both free and paid apps in the marketplace from AgilePoint's extensive partner network.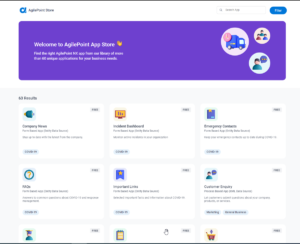 As you can see, we're taking the commitment to improve the speed, performance and usability quite seriously in AgilePoint NX V9, and as always, we look forward to your feedback.  After all, more than any provider in our space, the features and product roadmap are directly influenced by YOU our customers.